HI There!! I am Minkey!! and I have taken over this blog!!
As to why you can read about it by clicking
here
if you desire.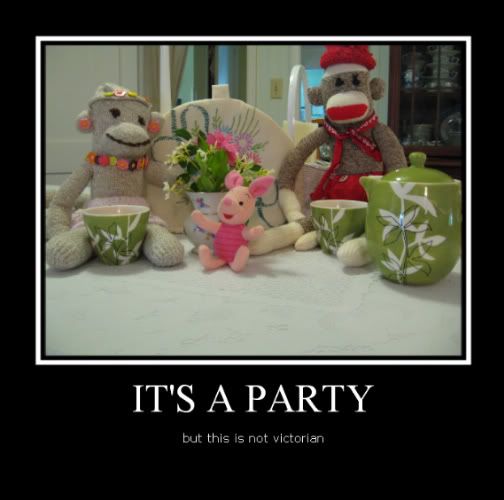 Cielo at
http://houseinroses.blogspot.com/
is having a Victorian Tea Party on Monday,
so I, Minkey, the most wonderful monkey around these parts, decided I must participate...... And Martha is having one on Tuesday HERE

Behind me you see my flowery teacozy. I am wearing my Springtime attire of a floral nature to go along with this setting. The
white flowers I have picked are poisonous
so I must make sure they don't fall into the tea!! They are confederate Jessamine (sp?) and have the most powerfully sweet fragrance! NOTE: if nannykim should not respond to any of your teaparty posting you will know that the tea was contaminated with the poison. Us monkey's are not affected by it.....
The temperature is in the 90's as you see above!! This party happened here with us monkeys on Friday in SC where springtime can be warm. We decided we should move outdoors for a more victorian? setting.
Zephir and I felt that the above netting gives a lacey feel to the setting.
You notice the poisonous flowers to the left of the netting
!
Of course with the tea above, we monkeys love bananas and kiwee fruit! No need for dishes for us!!
Of course I think we might want some of the Monkey Bay below.
However it is best for cooking and not drinking as it is a bit tart.......sooooooooo
We will have our little tea. The Tea pot and cups we purchased at the
Charleston Tea Plantation
. It is the
only tea plantation in North America
!!! (there is a post further down on this blog about our trip there by clicking
here
....
yes Zephir and I , Minkey (the most beautiful beige monkey!)did go!) These look appropriate for us monkeys, don't ya think? Piglet had to come too. I figured for the victorian look I should don a veil....well um this was as close as I could come to it. Since green tea is so good for us, we drank it right up--yummy--we are using the kind that has a bit of lemon in it!!
Well, guys, it got a little too hot out there so we came back inside and we wish you all adieu! But first ......a larger picture for you all?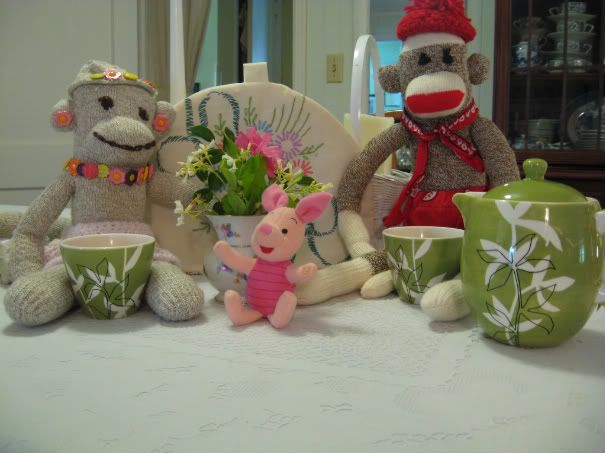 Ps. If Nannykim gets poisoned.....well.....what can we say, but that we tried to behave
!